Back to The Wine Enthusiast index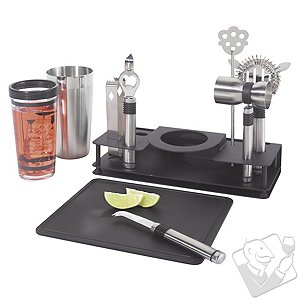 Shake stir and serve! Includes everything you need (save the spirits): 2-piece 15 oz. cocktail shaker (with 5 printed recipes); cutting board; tool stand; and stainless steel ice strainer bar knife bottle/can opener double jigger ice tongs and 10' stir spoon.
$ 39.95
---
Ten Piece Stainless Steel Bar Set in Black Leather Carrying Case with Locking Clasp. Includes Two 4 oz. Flasks One 2 oz. Flask 7 oz. Shaker Stirrer Ice Tong Flask Funnel Two Collapsible Cups & Wiping Cloth.
$ 175.00
---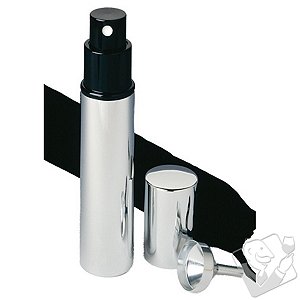 For the driest martini when only a whisper of vermouth will do. The mister holds .5 ounces of your favorite vermouth. Matching silver colored mini funnel and convenient velvet pouch included. Size: Mister 4-3/4' long 7/8' dia.
$ 14.95
---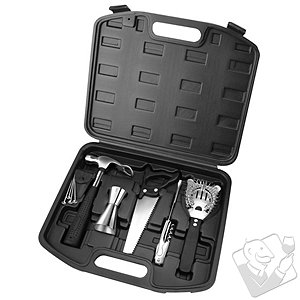 Tend bar like a master craftsman.This 10-piece set has what you need to build your own cocktails and serve your guests. Stainless steel implements come in a sturdy tool case with a convenient handle. Hand wash and dry only. Not for use as real construction tools. Set includes: 4 Nail olive picks 1 Hammer bottle opener 1 Saw for lemons & garnishes 1 corkscrew screw driver 1 Spackle knife strainer 1 Double jigger for oz. and 1 oz. shot measures 1 Tool Case with fitted compartments for tools
$ 24.99
---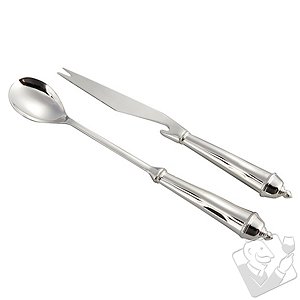 Silver plated bar knife and spoon set makes a beautiful presentation when serving drinks at your home bar. Makes a wonderful gift. Hand wash. 9.5' length.
$ 19.95
---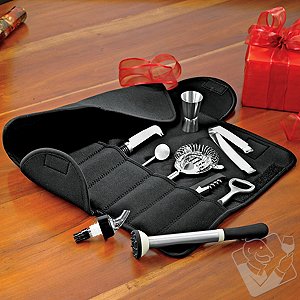 Make and serve drinks like a pro! Being a brilliant bartender at home takes the right equipment. Nine must-have tools are neatly pocketed in this neoprene rollup with Velcro closure: bottle opener strainer tongs stirrer muddler double jigger bar knife measured liquid pourer and corkscrew. Easy to store and transport.
$ 39.95
---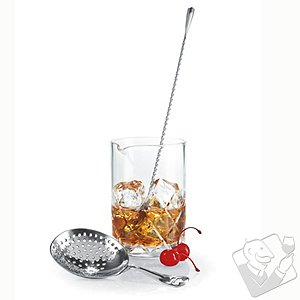 In the late 19th century the Japanese mastered the art of making the perfect cocktail. The Yarai glass they developed is still coveted today. Found in the chicest bars the vintage beauty cut crystal look spouted form and pleasurable heft make it the mixing glass of choice [and one of the trendiest gifts of the season]. Just the right size for mixing two cocktails at once place the strainer over the top to pour without a spill. Set includes: mixing glass stainless steel bar spoon and strainer. Dishwasher safe. Size: 5 1/4 'H 17 oz.
$ 69.95
---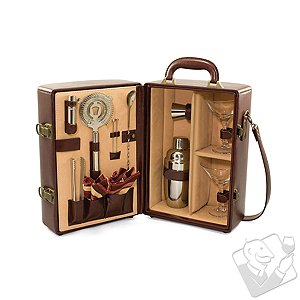 Its the portable cocktail party! The Manhattan cocktail case has everything you need to make a perfect drink. The insulated interior provides plenty of room and protection for two bottles of your favorite spirits plus additional compartments for all the accessories. A handsome and practical gift idea Available in a choice of mahogany colored faux leather with tan velvet interior; OR black faux leather with with a green velvet interior Includes: Two (2) 7-ounce martini glasses One (1) 19-ounce stainless steel shaker One (1) 1-ounce double-sided jigger One (1) 1-ounce mister One (1) pair of ice tongs One (1) strainer Two (2) olive picks One (1) combination fork/spoon stirrer Two (2) napkins
$ 139.95
---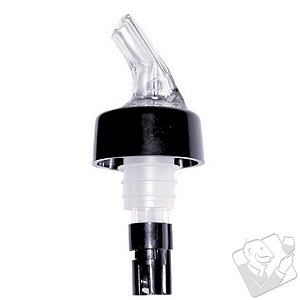 Our pour spout is perfect for measuring the amount of liquor or wine you pour. It is made of plastic and has a stainless ball bearing within to aid measurement. Size: 1.5' L
$ 2.99
---
An innovation guaranteed to turn you into a master mixologist. The jigger with a base for easy storage measures your spirits liqueurs and cordials and releases them directly into a glass mixer or shaker with the press of a lever on the side. No slips. No spills. Remove the bottom spout and attach the layering tool with deflector to float crmes triple secs and brandies in perfect harmony. Its that easy to layer the trendy cocktails found at the hottest bars and create some signature drinks of your own. Hand wash. Dimensions: 9H x 3-1/3W x 2.94D 3 oz.
$ 9.95
---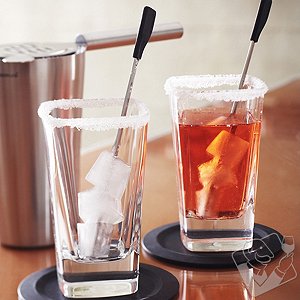 With the Blomus Mesco Coolstick set you'll be able to prepare cool drinks that will surely attract the attention of everyone. Prepping is easy: just pour water into the cube moulds of the silicone form add the stainless steel stick and place the form in your freezer. Like an iced sculpture the small cubes will surround the stick. Serve in a glass and add some mint leaves or lime wedges. Blomus Mesco Coolsticks will provide you with a true eye catcher.
$ 14.99
---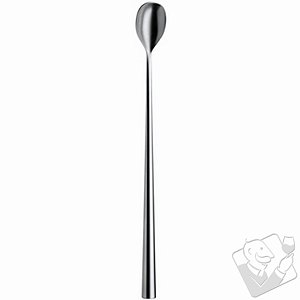 Bar spoon/stirrer features an elongated handle for mixing highball drinks. Constructed of cromargan 18/10 stainless steel. A necessity for the home bartender. Dishwasher safe. 11.5' length
$ 19.95
---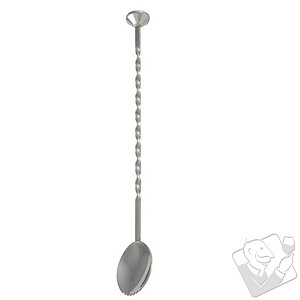 Essential part of a well outfitted bar. Specialized serrated spoon for stirring mixed drinks and crushing ice using hammer on end of spoon. 11.25' height.
$ 12.95
---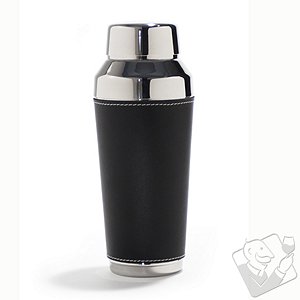 The VIP Cocktail Shaker features a 23-oz. capacity and includes a separate strainer and lid. Crafted from high-polished 18/8 stainless steel this stylish cocktail shaker is insulated with fine-stitched black faux leather. -23 ounce capacity -Black faux-leather insulates contents of shaker -18/8 Stainless Steel construction -Removable lid and strainer
$ 19.95
---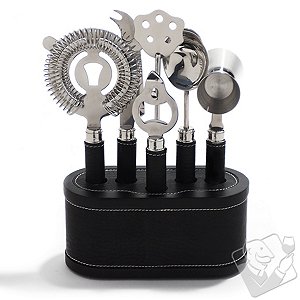 Crafted from 18/8 stainless steel the VIP Bar Tool Set includes all the tools you need for a complete home bar. The tools and stand are wrapped with fine-stitched faux leather. br>-Strainer br>-Citrus Knife br>-Stirrer br>-Ice Spoon br>-Double-Jigger Measure br>-Bottle Opener
$ 29.95
---
Back to The Wine Enthusiast index
---
Newsletter
|
Privacy Policy
| ©2010 OliverGoodstuff.com
wickity snickity woo